Testing Live Video and WebRTC Applications with the Experts
Building a WebRTC application is not enough. It needs to be thoroughly tested, as well. Don't leave the testing of your video application to just anyone. Trust the experts at WebRTC.ventures!
A WebRTC application, like any software, needs to work on a variety of platforms, in different hardware and network configurations, and at various levels of user load. Testing is not as simple as buying a single tool or adopting a single methodology. It requires layering a variety of techniques, as well as expertise that most teams don't have.
As the WebRTC industry moves from prototypes to production-ready applications, we have formalized our testing here at WebRTC.ventures. We now offer standalone WebRTC testing services for both web and mobile applications, in addition to the testing already built into our regular development projects.
Our testing philosophy and methodology is outlined in more detail in this blog post and in the diagram below. It is built upon the knowledge and experience gained from the last five+ years specializing in live video applications at WebRTC.ventures combined with over a decade of experience developing more general apps through our parent company, AgilityFeat.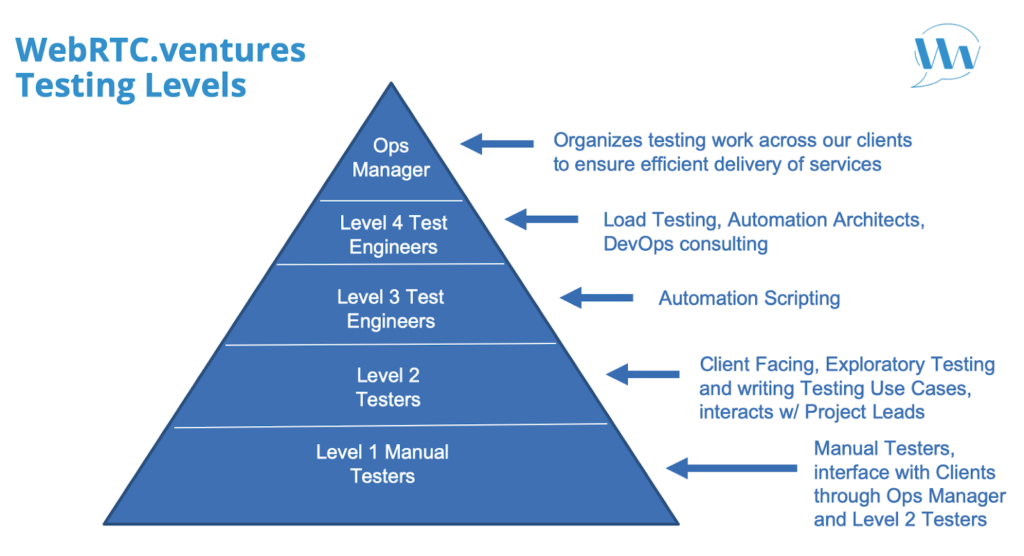 Choose one or more levels of testing
At WebRTC.ventures, we build unique solutions in each of our live video applications, because our clients' needs are unique each time. That same sort of care is necessary when testing your live video application as well.
Off the shelf tools can definitely be a major asset to video testing, but it also requires looking at the array of different types of testing that can be performed and selecting which ones (or all) best fit your unique needs.
Our experienced team can help you consider your Testing and DevOps architecture and use case in order to apply the right layers and levels of testing to that application. This may include one or more of the following:
Level 1 – Manual Testing

This includes manual testing on our device lab based on manual test scripts that we develop with you. This testing may be done independently or in parallel to the other testing layers.

Level 2 – Exploratory and Creative Testing

This is the default type of testing we apply to our development clients, where we dedicate a tester to your project team so that they get to know your specific use case and application features. This allows them to do exploratory manual testing and look for the issues developers may have missed. Because of their intimate knowledge of your product, these Level 2 testers can also develop the test scripts to be used by other testing layers.

Level 3 – Test Automation

Manual testing is very effective, but hard to scale as your application complexity grows or as you try to shorten deployment cycles. Our Test Automation engineers can take scripts written by manual testers and develop automated tests to run against any layer of your application stack. We can manage all the DevOps and script maintenance around this for you, in order to allow the development team to focus on building new features to delight your users!

Level 4 – Load Testing and Advanced DevOps

"How many users can my application support before video quality degrades?" This is a common question our clients have, and while there are some published performance numbers about different media servers, the only reliable way to know how far your application can scale is to load test. As in a traditional load test, we can spin up many automated scripts to hammer your service and see how it performs. In addition, we can monitor video quality manually and automatically during these tests to help you determine more subjective load testing results like call quality.
Let's get started!
Regardless of which level(s) of testing you need, our team can help! We can add on services like automated testing and load testing to our standard development contracts, but we don't have to build your application in order to help you test it. We're also happy to help your existing team improve the quality of your live video application with our testing services.
Are you ready to engage an experienced testing team to ensure the quality, effectiveness, and performance of your software application? Contact us today!