A telemental health application that expands the reach of college counseling centers
At WebRTC.Ventures, we have been building telehealth applications for all kinds of enterprises.  A very interesting use case that we are proud to have been pioneers in is telemental health. Telemental health is a new way to provide patient well-being by enhancing and expanding the reach of counselors or therapists.
Telehealth brings the same quality of service to a more convenient location. Did you know that teletherapy is as effective in training mental health and substance use conditions as traditional face-to-face therapy?
Research also shows that telemental health is efficient and cost-effective. And telehealth platforms are required by federal law to be HIPAA-compliant, ensuring that online patient health information remains encrypted and secure.

How does a telemental health platform work?
A telemental health platform may be useful to patients who cannot leave their home, lack access to transportation, work unconventional hours, or live in rural areas. A telemental health platform is useful for counselors because it allows them to work from the convenience of their home or office.
Your telemental health application can be in web or mobile so your patients can maintain access to therapy throughout all of their transitions, from anywhere and in a secure manner.


Continuity of Care


Face to face no matter the place


Secure and Encrypted
We are strongly committed to deliver high quality telehealth applications. We built UniWellness with a vision: to reduce barriers by connecting students to mental health care whenever and wherever because every person matters and every illness hurts.
With UniWellness, you can have your telemental portal up and running in weeks. We will configure it to fit the unique needs of your organization and your users.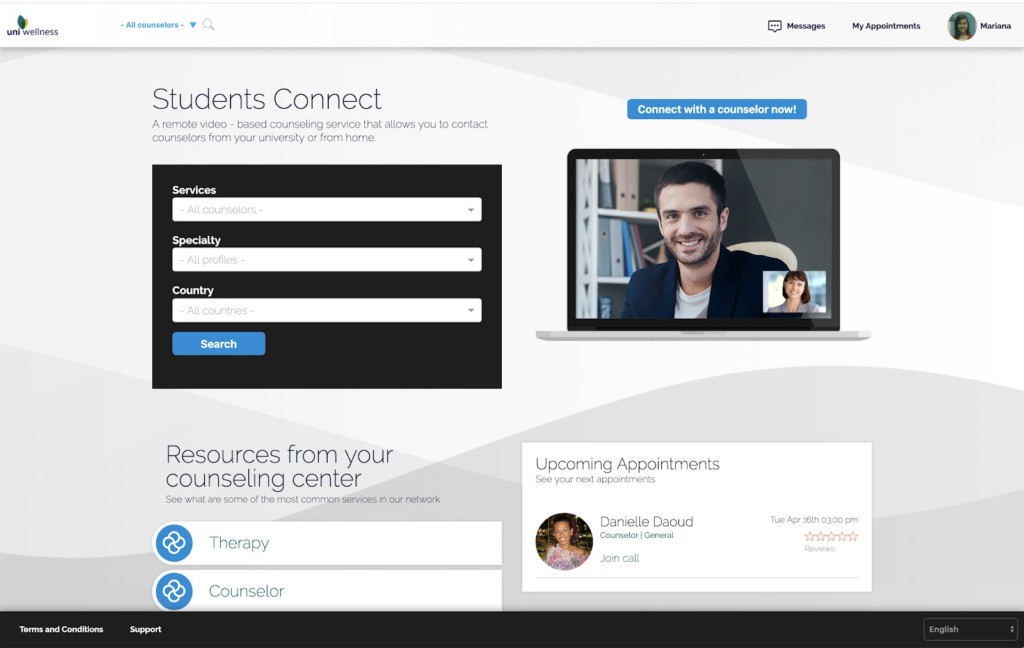 Subscribe for the latest news in student mental health and UniWellness!
Your own emergency crisis counselor application
This same platform can be used for instant calling your counselor or patient. In emergency situations, wait times matter. Online platforms can reduce waiting time considerably.
We have built telehealth emergency rooms in which you could:
Respond to requests and evaluate patients faster
Complete patient assessment and provide crisis intervention services online
Consult with on-call psychiatrist
Complete notes and forms within the application
A telehealth platform can improve efficiency and employee and patient satisfaction and will move you ahead of your competition.
We can customize a telemental health application as you need!
Contact us today to see a demo. We can set up your telemental health platform and customize it and brand it uniquely to your organization! We can also expand the features to your business needs and requirements.
[kleo_gap size="40px"]
[kleo_gap size="80px"]
Zoom or Skype are OK if you want to chat with a friend or family abroad, but our platform is for much more than casual meetings. Thanks to our years of experience building healthcare applications, we built a Telehealth Kit with the more common features and can be adapted perfectly for telemental health.
[kleo_gap size="80px"]